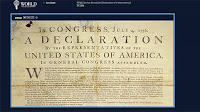 UNESCO and The Library of Congress have joined forces to create The World Digital Library. The 60 million dollar joint effort will allow libraries and musuems across the globe to share valuable cultural and educational data with anyone who has Internet access. With funding from sources including King Abdullah University in Saudi Arabia and the Carnegie Corporation in New York, more than two dozen institutions have contributed content that covers nearly 200 countries.
The Library is a compendium of some 1,200 high-resolution digitized files that allows users to zoom in on ancient documents and archival photographs. It also contains a sophisticated search tool that allows users to browse by keywords, time period, place, type of item and the institution which contributed it. Finally, it provides descriptions of all materials in seven languages (Arabic, Chinese, English, French, Russian, and Spanish — the official languages of the United Nations), though many of the documents, books and other components appear in their original languages.
Photography is the strong suit of this collection with images ranging from a photo-panoramic view of
Constantinople
to a photo of
George H.W. Bush
as a senior on the Yale baseball team meeting Babe Ruth in 1948 to a photo of a traditional
Chinese bride
.
Multimedia options are a little bit more difficult to come by, but some impressive ones that stand out include one of the earliest recordings of
"Amazing Grace"
and the
Marseillaise
. For visual stimulation, try a late 19th-century
short film
of a Holy Week procession in Spain from the great Lumière brothers.