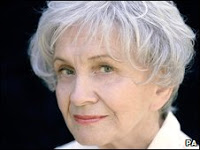 Canadian short story author Alice Munro has won the third Man Booker International Prize. Munro was competing against 13 other authors including Australian two-time Booker winner Peter Carey and Briton James Kelman.
The award is given every two years to a living author for an entire body of work that has contributed to fiction across the world.
Her first collection of stories, Dance Of The Happy Shades, published in 1968, won the Governor General's Award, Canada's literary prize.
Her success was followed up by Lives Of Girls And Women (1971), which won a Canadian Booksellers Association award.
In 1980, The Beggar Maid was shortlisted for the annual Booker Prize for Fiction and her stories frequently appear in publications such as the New Yorker and the Paris Review.
Judges on the panel stated "Alice Munro is mostly known as a short story writer and yet she brings as much depth, wisdom and precision to every story as most novelists bring to a lifetime of novels.
To read Alice Munro is to learn something every time that you never thought of before."
A short and candid interview with Alice, discussing the reasons she became an author follows:
For more information on Alice Munro see: the Wikipedia entry
Alice Munro
For availability of her books please go to our
Library catalogue
and do an author search for munro a.