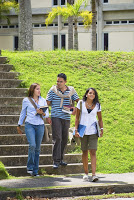 *Bring your student card with you. This will be needed to borrow from the Library and to access certain rooms outside of business hours, such as the 24 hour Computer Labs and Learning Commons.
*Top up your credit. To print or use the internet, you will need to have credit in your printing and internet accounts. Credit can be organised online, by paying at the cashier's office or by faxing your credit card and payment details to the cashiers office. You can find more information from the DIT page. All of the Library's student access computers are connected to a networked [black & white] A4 printer in each library. To print, students must have credit in their CSU printing account. Printing costs: Black and White; $0.13 per page. Colour printers are available in the Student Computer Laboratories
*Library Opening Hours. Check here for the Residential School and Vacation opening hours. Also note that there are a certain number of laptops that can be borrowed overnight if borrowed in the last half hour of closing time.
Enjoy your time at Residential School !