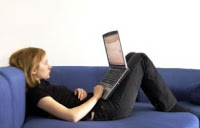 Online learning – for students and teachers – is one of the fastest growings trends in educational uses of technology as it provides more flexible access to content and instruction at any time, from any place.
According to a new meta-analysis released by the US Department of Education online learning has definite advantages over face-to-face instruction when it comes to teaching and learning. The meta-analysis found that, on average, students in online learning conditions performed better than those receiving face-to-face instruction.
The findings presented
here
are derived from:
a systematic search for empirical studies of the effectivness of online learning.
a meta-analysis of those studies from which effect sizes that contrasted online and face-to-face instruction could be extracted or estimated.
A narrative summary of studies comparing different forms of online learning is also provided.