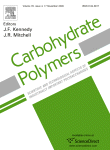 Research article co-authored by CSU Professor Lexin Wang titled 'Interleukin-2 enhances the cytotoxic activity of circulating natural killer cells in patients with chronic heart failure' was published in 'Heart and Vessels' in July this year.
Access this article in the CSU Research Output (CRO)., and also…….
'Amylose content and chemical modification effects on thermoplastic starch from maize – processing and characterisation using conventional polymer equipment'. This was co-written by Senior Lecturer, Peter Torley, and was published in 'Carbohydrate Polymers'. Access in the CRO.