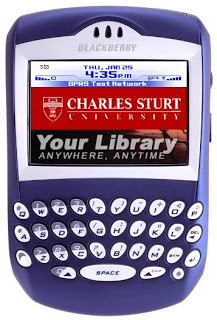 While the Library is working hard to make the entire Library Website compatible with mobile devices, there are currently a number of resources already available to use on your handheld devices.
For example, you can search the CSU Library Catalogue through Worldcat's mobile interface. This is available at: http://www.worldcat.org/m/. You can also search Pubmed & Medline databases at http://pubmedhh.nlm.nih.gov/nlm/and http://mdot.nlm.nih.gov/proj/mdot/mdot.php.
A number of eBook collections are also accessible on mobiles, such as:
If you need help when you're on the run, you can also view the Watch-It tutorials on your mobile through Youtube at http://m.youtube.com/or contact the library using the Live Chat service – http://www.meebo.com/meebomobile/.
CSU Library. It's your library – Anywhere, Anytime!