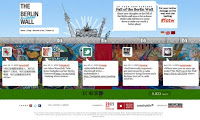 20 years ago on November 9, the Berlin Wall came crashing down, taking with it the communist regimes that haunted Eastern Europe during the 20th century. World leaders are gathering in Germany's capital to commemorate the reunification of Germany and the end of the Cold War.
Various social media services are commemorating the historic occasion in their own unique way. Of course, when the Berlin Wall fell two decades ago, television was the dominant medium with all the networks broadcasting using The Wall as a backdrop.
Twitter: The Berlin based organization the Kulturprojekte has created The Berlin Twitter Wall. Users use the hashtag #FOTW (Fall Of The Wall) to leave their thoughts about the fall of the Berlin Wall in 140 characters. What is fascinating is the number of posts in Chinese. The China Digital News translated these posts, many of which spoke about the Great Chinese Firewall – referring of course to restrictions placed on people trying to use interenet sites such as Twitter. Here is a sample as translated by the China Digital News
Youtube: The online video site has launched a channel to commemorate the anniversary of the fall of the Berlin Wall. Youtube wants users to answer the question How is Freedom of Expression online important to you? Check out some a sampling of the videos on this page inlcuding one from Jimmy Wales the founder of Wikipedia. Also check out CitizenTube. In fact, Youtube is a great source of material on all things related to The Berlin Wall.
Facebook: There are a number of groups dedicated to The Berlin Wall on Facebook some serious, some in "fun", some fascinating – none seem to have any serious traction. One page worth visiting is : The Fall of the Berlin Wall
Interestingly, mainstream press have left their historical mediums behind, favouring online coverage. The Guardian has put up some impressive films online in which Berliners describe how the city was divided. Readers of The New York Times have submitted photos and memories of the wall before and after its fall. The BBC have created an interactive map showing where pieces of the wall are now in the world. They are asking readers to let them know if they have a piece of the wall so that they can be added to the map.