A question we get asked a lot here in the Library is "why would I possibly need a student ID card?"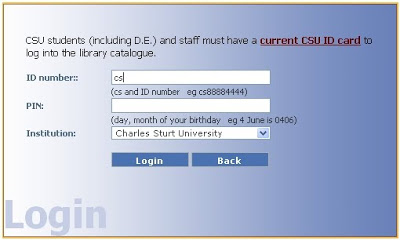 Well, the short answer to that question is that all students (including DE students) need to have a student ID card because your library record is tied in with your ID card, so, 'no card' = 'no library record.'
The longer (and infinitely more interesting) answer is that your ID card is your free pass to a heap of great resources that will help you get the most out of your study:
Borrowing books, DVDs etc.
Having a student ID card entitles you to borrow items like books and dvds, whether you're studying by DE and placing requests to have items posted to you, or an on-campus student visiting the library.
For more information about borrowing from the Library, see the Borrowing FAQ and our Watch-it! Tutorials for more details.
SmartSearch
SmartSearch is an information gateway that provides all CSU library patrons with a single user interface for accessing and searching a variety of electronic resources. Via the gateway you can access – Internet sites, databases, other library catalogues, statistics, atlases and reference materials.
Visit the SmartSearch page for more details.
Requesting copies of book chapters or journal articles
All students can request copies of book chapters and journal articles (*subject to copyright restrictions) to be scanned and emailed to them. However, please note that on-campus students will need to come into the library if the book or journal is held on your home campus.
This Watch-it! Tutorial will show you how to place a copy request.
To access the 24-hour space in the Learning Commons
The Library currently has 3 learning Commons (Bathurst, Orange, Albury-Thurgoona, and another planned for Wagga campus) that offer 24-hour spaces for —- so whether you're an on-campus student wanting to get in some extra study-time, or a DE student on campus for residential school, your student card acts as your personal 'key' to gain entrance to the building.
To join another university library as a reciprocal borrower
If you're a DE student who lives near another University, you can join up as a reciprocal borrower, which means that you can borrow from their collection rather than having items sent to you by CSU. See the University Library Australia site for more details.
Don't have a library card? You can find out more about getting an ID card on the University's CSU Card page.