Apply now for your CSU Smart Card
Click here for more information
This card will generate your Library Record and allow you to borrow and request resources from the Library:
Give you access to the 24/7 Learning Commons.
Pay for printing and photocopying.
Add credit for food purchases on Campus.
Just as important, you need this Card as ID to attend Uni nights and official CSU events!!!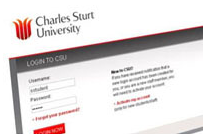 Create your password and activate your log in
Manage your borrowing and loans online via My Library Record in Primo Search
Use online resources that require a log in
Access computers and wireless networks if you come on campus or attend residential schools
Take a minute to visit the Library home page.
Watch this space for more ideas on how to "kick start your studies" in the next few weeks.