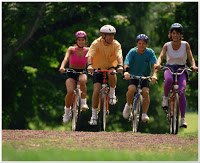 The Parliament of New South Wales has published a briefing paper about cycling called 'Cycling and transport policy in NSW'. It summarises the transport issues facing NSW, the state of cycling in NSW, and compares cycling in Sydney with the other Australian capital cities and with selected international cities.
Other new Parliamentary Research Papers include:
'Sydney and Melbourne: An Economic Overview' and
'Health Education and Community Indicators for NSW'.
All of these reports can be found
here
.