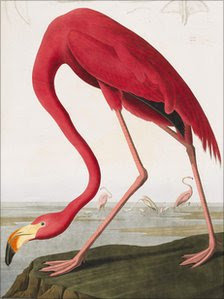 The world's most expensive book is just about to go under the hammer at Sotheby's Art Auction House:
"A rare copy of John James Audubon's Birds of America, billed as the world's most expensive book, is to go on sale at Sotheby's, it has been announced. "Only 119 complete copies of the 19th-century book are known to exist, and 108 are owned by museums and libraries. "A separate edition of the wildlife book sold for a record-breaking price of $8.8m (£5.7m) a decade ago." Read the rest of this article on the BBC News website.
If you don't have a spare $8 million + dollars lying around, you could always check out Audubon's Bird's of America at the University of Pittsburgh to see what all the fuss is about.