It's more than a game, it's your life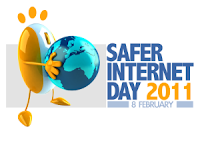 That's the message to promote safer and more responsible use of online technology and mobile phones. Safer Internet Day, on 8th February 2011 will focus on the topic "our virtual lives". This is designed to help children and teens learn essential skills about safe social networking.
Key messages for Safer Internet Day are:
Control your digital reputation – things you post online now can affect you in the future.
Protect your privacy – make decisions about who sees your information.
Be a good friend– treat others online as you want to be treated.
For more information on Safer Internet Day visit Cybersmart.