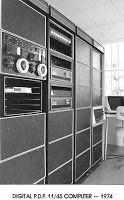 How times have changed! The CSU Regional Archives are currently highlighting historical photographs, starting with the first computer purchased by the Riverina College of Advanced Education (RCAE). This was the Digital PDP 11/45 Computer.
The 1974 RCAE Annual Report contained the following information about the computer:
"Early in 1974, the College took delivery of a Digital PDP 11/45 Computer, and this has been steadily expanded by attaching punch cards, card readers and some remote terminals. The Computer is used mainly as a teaching tool for courses in Business Studies and Applied Science, but with the appointment of a Systems Analyst early in 1975 and other staff, the Computer will be used increasingly in the administration work of the College, for the Library and will be available to local business, professional an industrial users."
Visit the CSU Regional Archives website for more photographs from CSU's precursor institutions.