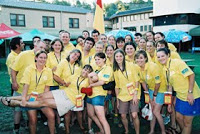 Welcome to Orientation Week @ Your Library for all our commencing students. Don't forget to keep checking CSU Library Twitter for the latest news and keep watching this space for pictures of Orientation Week.
Take part in the library scavenger hunt to win iTunes vouchers, there are five $20 vouchers up for grabs.
Library Tip: To borrow from Your Library both on campus and distance education students need a current CSU Student card. If you haven't already got a CSU student card you can apply for one by filling out this form here and sending it to Student Central.
Visit the CSU Orientation Week site for all other O'Week information.