I have to admit that I love Census night, so I'm looking forward to filling in my form (I've chosen eCensus, the online option) tomorrow night – Tuesday 9th August.
So, what is the Census and why do we need to fill in this form? The Census counts Australia's current population, and the data collected can help in planning for Australia's future, for example, helping to determine where new schools and hospitals will be built.
Have a look at spotlight, an interactive video, to find out what the Census can tell you about Australia and yourself. It creates a cute little personal infographic that you can share via Facebook or Twitter.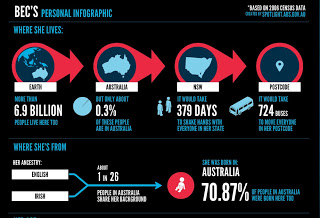 Check out the
Australian Bureau of Statistics
site. Here you will find all the data from previous Censuses – you can use this data, which includes information on topics such as education and employment in Australia, for research, it might even be useful for you next assignment!
When completing your Census form you will also have the opportunity to make sure that your story is preserved in our national history. For more information on how to do this read
Be part of our history
It only happens once every 5 years – so don't miss out, remember to fill in your form!