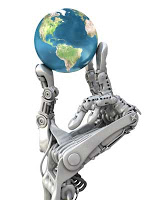 The RoboCup Challenge is held on 14 June 2012 at the Bathurst Campus. Enthusiastic robotics students from eight primary and secondary schools across
the region will marshal their talents at the 2012 Central West RoboCup Junior
Challenge.
RoboCup is an international competition/conference
promoting artificial intelligence and robotic research around the world.
RoboCup Junior is aimed at primary to secondary school children and
focuses not only on engineering and computing skills, but also emphasises
sportsmanship, teamwork, cooperation and organisational skills. Further information is available at RoboCup website.
Robotics is an important and rapidly developing field. For anyone with interest in this field, the Library subscribes to –IEEE Xplore – IEEE/IET Electronic Library (IEL) where huge resources on Robotics can be accessed. The Library also has a number of books, eBooks and audio-visual materials in this topic.
Good luck to the competitors.