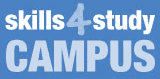 CSU Library is hosting a trial of an online and interactive Study Skills resource known as skills4studycampus.
Skills4studycampus is an interactive e-learning resource which is based
on the philosophy of Dr Stella Cottrell, bestselling author of The study skills handbook. It offers a mix of instruction, practice, activities,
reflection, and testing to help in the development of study skills.
This resource consists of a series of modules:
Getting ready for academic study
Reading and note-making
Critical thinking skills
Writing skills
Referencing and plagiarism
Groupwork and presentations
Exam skills
Projects, dissertations and reports
Employability and personal development
Confidence with numbers.
Check out this short introductory video to learn more:
You can access skills4study from our Trial eResources page, and you can submit feedback using our feedback form.
Please note: You need to register to use this site, but registering is free and easy:
Go to our Trial eResources page and click on the link to Skills4studycampus
Make sure that any and all popup blockers are turned off (or set them to always allow popups from this site)
Go to "First time accessing the resource?" at the bottom of the screen, and click on the link to register
Complete the registration form
You will receive an email from skills4studycampus confirming your details.
This trial runs until 18 October 2012.