If you haven't been following the
CSULibrary Facebook page
, you may have missed all the celebrities that have been spotted around the Bathurst Library lately as Bathurst Access Services staff
were recently caught showing off the vinyl collection while doing their daily
tasks: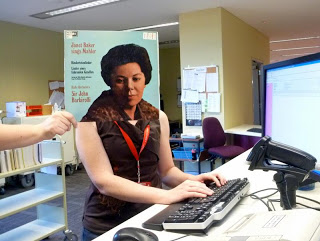 Here is Annette who is always happy to assist patrons with any enquiries at the level 3 Loans Desk — with Janet Baker.
Here is Laura shelving books in Bathurst's vast collection over 325,000 books — with John Lennon.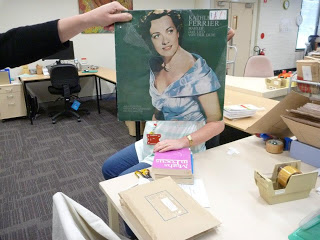 Here
is Amanda packaging and posting requested books out to our patrons — with
Kathleen Ferrier
. (Did
you know return postage is free for students within Australia?
Find out more
!)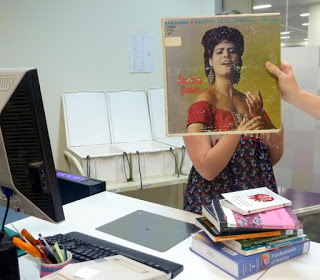 This
is Jess who is one of our fabulous student casuals making sure books
and other items placed in the Returns Chute in the Learning Commons are
processed promptly. — with Shoshana Damari.
And here's Laura again, busy scanning photocopy requests from students which will soon be emailed out to them. — with
Mark Isaacs Music
.
Interested
in vintage paraphernalia?
CSU Bathurst campus Library
has a great
browsing collection of vinyl records, the old 33 1/3 rpm. Call in at the
Loans Desk on level 3 and ask to see it!
What is "sleeve-facing"?
Do you have a favourite 'sleeve face' example, or have you tried it yourself? We'd love to see them!