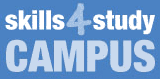 CSU is trialling an online resource known as Skills4Study, which offers a mix of instruction, practice, activities, reflection, and testing to help in the development of study skills.
The trial has been extended until 30 November to give CSU students a further opportunity to preview the content.
To access Skills4Study, go to our Trial eResources page and follow the instructions in the Database Summary. You need to register to use this resource.
For more information on the key features, view this short introductory video:
Let us know what you think of this resource by submitting a feedback form.