The Bathurst campus library "ask us" desk relocated to Level 1 on Tuesday, 9th July.
We are now easy to access from the Learning Commons and available to help you with all your library questions.
The physical collection remains on Levels 3 and 4 and items can still be self checked out there. If you need assistance while you are on those levels you can ask any library staff, or contact us using the direct line phone situated on Level 3 across from the self check kiosk. All you have to do is lift the receiver and you'll be put through to the "Ask Us" desk on Level 1.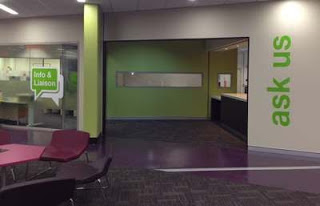 The Bathurst Library service desk in its new location