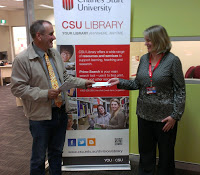 Today CSU Library welcomed Mark Pattison, Executive Director
of the
National Council on Intellectual Disability
(NCID), to acknowledge the
ongoing partnership we have with NCID and the Wings Away Association. Mark presented
Anne Loria, Manager Collection Services, with a cheque for the purchase of new
material for the Collection.
The Wings Away Collection is the national charity of the
Wings Away Association
. The Collection is administered by the NCID through its
research institute, the Australian Institute on Intellectual and Developmental
Disabilities (AIIDD).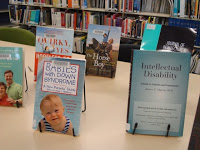 The Collection is a substantial collection of literature on disability in
Australia having grown to over 5,000 books and journals with an emphasis on early intervention and support for families with young children with
disabilities. The Collection provides up to date information on research and
support networks in the first instance to families, though it is recognised
that this information is invaluable to professionals and students who provide advice
and support to parents and their children.
There are Wings Away Associations in each State and Territory where they
provide significant support to a variety of charitable organisations.
Wings Away – Norma and Harry Rigby Scholarship
Two scholarships of up to $1,500 each will be offered each year to assist with
attendance at a conference at which the successful applicants will be making a
presentation.
The scholarship will be awarded to the employee and student
who can demonstrate the greatest benefit to children with disability.
Click
here
for further details and how to apply.