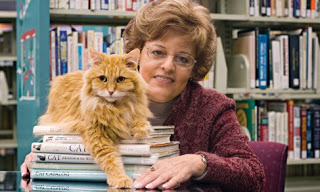 For those who may not have heard of Dewey the library cat, it is a story that will warm your heart! The story of Dewey started on a cold morning in Spencer, Iowa, in the 1980s. When the town Librarian, Vicki Myron, found a tiny, bedraggled kitten almost frozen to death in the night book return box. For Vicki, her life and the town of Spencer was never the same! Dewey, as the townspeople named the kitten, grew into a strutting, gentle library cat whose antics kept patrons smiling, and whose sixth sense about those in need created many profound and loving friendships. For a small town tangled deep in the U.S farm crisis of the 1980s, Dewey became the light of hope in a very dark place. As Dewey became more known, people drove hundreds of kilometres to meet him. Through it all, Dewey remained a devoted companion, and continued to be a beacon of optimism not just for Vicki, but for the entire town of Spencer as it steadily pulled itself up from the worst financial crisis it had ever experienced.
Dewey sadly passed away in 2006. His remains are now buried to the right of the library's front door, marked with a plaque that reads "In Loving Memory of Dewey Readmore Books: World Famous Library Cat." Myron wrote a book, Dewey: The Small-Town Library Cat Who Touched the World, that was published in September 2008. By late 2008, it was on the New York Times bestseller list!
* The book is available through the CSU Library catalogue, and can be viewed at this link to it in Primo Search.
Where to go to read more about Dewey: