Looking to start searching for library items? Not sure where to go? Look no further – Primo Search is the place to start all your searching!
HOW TO START SEARCHING:
— You can access Primo Search from the Library homepage. Either use the Primo Search box, or click on Find Information then Primo Search.
— From the main search screen in Primo Search, search for the book you want. (There are a number of ways you can search, e.g. Search all or Books, journals, DVDs & more, or once you have some results you can use the menu on the left had side of the screen to Refine My Results).
— Once you have located the book you want click on Availability. (You will now be able to see where the book is held, whether it is available or on loan and the call number, which will help you find the book on the Library shelves).
— To request the item, log in if you wish to your Library Record.
HOW TO LOOK-UP YOUR LIBRARY RECORD TO VIEW AND RENEW ITEMS:
1. Visit Primo Search.
2. Click My Library Record at the top right-hand corner of the page.
3. Enter your CSU username and password.
4. Click Loans from the list of Activities.
5. You will see a list of all your current loans. Click the Renew link next to the loan you want to renew, or click Renew All at the top of the page to renew all your current loans. (Note: You will not be able to renew loans if: • items are more than two weeks overdue • you have outstanding Library fines or charges • another student has placed a request on that item).

For more information, please visit Frequently Asked Questions.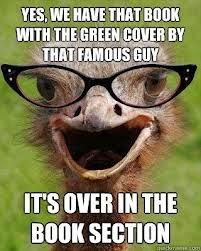 "Never have this problem by using Primo Search!"