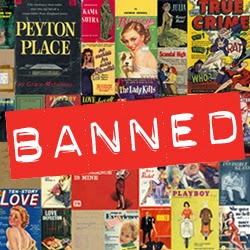 http://www.naa.gov.au/visit-us/exhibitions/banned/index.aspx
We should be able to read, hear and see what we want as adults, right?
But what about books (or films, internet sites, music) which may offend?
Books containing erotica, content about illegal drugs, and end-of-life issues are frequently attacked on the grounds that they are offensive. Historically you could add to this list books that contained minority views on politics, religion, sexuality and morality. Controversy on whether books should be censored or banned has been around as long as books have been banned.
When a book provokes and enlightens, or even horrifies it is usually a great read. Books like this open up our perspectives to on what it life is like for others from different backgrounds and in different contexts. Consider the following classic books; should they be banned, have some censorship or should anyone who wants to, be able to read them?
For a more comprehensive list of some books banned in Australia browse this
website
More recently in the USA the following titles have had
complaints
lodged against them :
Currently
The Peaceful Pill Handbook by
Philip Nitschke and Fiona Stewart is banned from sale or import in Australia by the Office of Film and Literature Classification, because of its content on assisted suicide.