Are you wondering how to borrow books while on campus?
1. Do a Primo search to locate the item you need. We have online watchit tutorials showing you how to use Primo search to locate items held by the library.
Once you have found the item in Primo there are a couple of things you need to check by clicking on the "Availability & Request" tab
Location will tell you what campus the book is kept on, and if the book is in a special collection in a different part of the library from the main collection. The book listed in the Primo search result below is located in the Bathurst campus library in the Children & Curriculum Collection, a separate room up on the top floor.
Next to this is the Call number – C523.1 ASI 1
Call number
Call numbers are so important! Write it down, screen shot it, keep track of it somehow. It tells you where the book is located on the shelf.
If you are not sure what a call number is, or how they work – check out this website for more information, or ask one of the library staff when you come into the library.



Material Type tells you what kind of resource you have located. Items in the library can be a book, journal, kit, audio visual item, DVD, map or 3D object.
Date due (on the far right of the box) indicates whether the item is available for loan ('available'). If the item is already out on loan a due date will be displayed.
2. Grab your student card (you'll need this to borrow the book)
3. Go to the Learning Commons building and look on the library shelves for your book.
Look for the shelf end displays showing the call number range on the row to work out which shelf your book is going to be on. Then work your way down the row till you get to the right number and your book.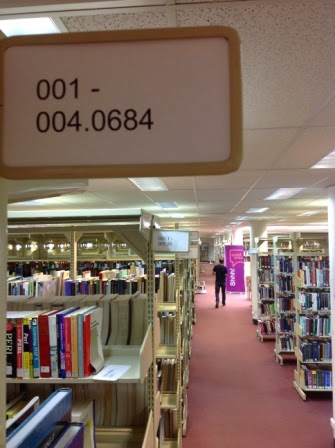 A shelf end showing the call number range for one row of
shelves
Can't find your book?
Not a problem – look for a library staff member or go to the "Ask Us" desk for more help
4. Borrow the book using the self check machine or at the Ask Us desk. They are usually located next to the main library entrance/exit.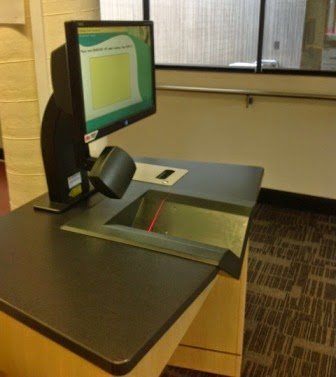 The self check machine in Bathurst
At the self check machine scan the barcode on your student id card, once it has registered your details scan the barcode on the book. The barcode you'll need will either be on the front cover,
or just inside the front cover.
Don't scan the barcode on the back – this one won't work on our self check machine!
Remember to print your receipt and check when the due date is.
If you have any problems using the self check machine, please ask library staff for assistance.
Happy reading (and studying!)