Your
CSU Card
enables access to various services and facilities throughout the University.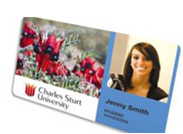 Most importantly, you must set a PIN to secure the accounts connected to your Card. Want to know more? Visit CSU Card.
CSU Card implements driverless printing from myprint.csu.edu.au where the details of your printing can be managed.
Use your Card to pay for printing and copying and other small value transactions throughout Uni.
Instructions on how to print, copy and scan are located in the Library near the MFD of your choice.
There is currently NO CHARGE for scanning and you can scan to USB or email. (This will be reviewed as necessary and is subject to change). For more information visit CSU Card.
Supported devices:
laptops (Windows, Apple, Linux, etc)
mobile devices such as tablets (Surface Pro, etc) and mobile phones (excludes Apple mobile devices iOS as they do not support the uploading of documents.
Home Computers
All Learning Commons desktop PCs
If in doubt try myprint.csu.edu.au.
Want to know more – Go to the Library.