The CSU Library Interlibrary loan (ILL) service team attempt to locate and supply items, not held by CSU Library from other Australian or International libraries or commercial document suppliers for CSU staff and students.
Items, such as books, journal articles, DVDs and other types of resources which relate to teaching, research, study or employment can be requested. Items for personal use can also be requested however, these will attract additional charges.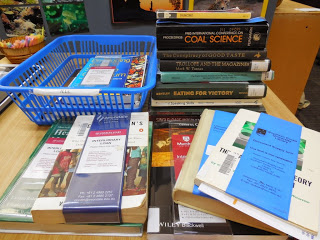 Interlibrary loans awaiting processing
And not only do the ILL team source items for CSU staff and students, it also supplies items held by CSU Library to other libraries, local and international.
The ILL team, in filling requests also have to traverse complex conventions such as Australian and International copyright and privacy, standards, codes and legislation.
All CSU staff and students are eligible to place Interlibrary loan requests*.
Did you know last year the ILL service team lent 5,767 items to other libraries and borrowed 3,212 items for CSU staff and students!
Interlibrary Loan Services
FRILLS – Free Interlibrary Loans
· Available to Academic/Research Staff and PhD/Masters/Honours Students.
STILLS – Standard Interlibrary Loans
· Charges apply for all other students and staff including Undergraduate/Graduate Certificate/Graduate Diploma students and general staff.
A Standard ILL loan or copy will cost $10.00.
OFFSHORE – Interlibrary loans
· Limited to copies of book chapters and/or journal articles. Books from other libraries are unable to be sent overseas.
RUSH/EXPRESS SERVICE
· The ILL service team also offer a Rush and Express service however, please
contact the ILL service team
before
placing your request**.
PLEASE NOTE:
*Reciprocal borrowers, community borrowers and local-school borrowers are not eligible to place Interlibrary loan requests.
** Rush and express services incur delivery charges.
Did you know items are regularly borrowed for CSU staff and students from the National Library of Australia, the CSIRO and other university libraries such as Newcastle, Deakin and Macquarie!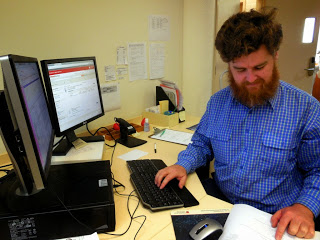 David filling requests for journal articles
How to make an ILL Request
To place an Interlibrary loan request, search Primo Search for the book, journal article or item you require. If the item is not held by CSU, click on the ILL Request link (top right of the screen) and complete the online form with as much detail as you can. Remember to check the Copyright declaration box and submit the form.
You don't even need to know which other library holds a copy of the item as the ILL team will do that for you!
To check on the progress of your request, simply log in to Primo Search and follow your request in My Library Record.
Once the item arrives it will be processed and forwarded to you by email/mail or you will receive an email to say it is ready for collection from the Ask us! desk at your campus library.
If you have incurred any charges these will be added to your university account when the item is received and processed by CSU ILL staff.
To return the item, simply return or post it back to a CSU campus library by the due date.
For more details about this service, contact:
Ask a Librarian – 1800 808 369
Bathurst Campus Library – Interlibrary Loans
Wagga Campus Library – Interlibrary Loans
or visit the Interlibrary Loans page.