The library has agreements with several institutions allowing staff and students to have access to the physical collections (books!) of a number of local and university libraries. In many cases there are no joining fees involved, but you will need to bring along your CSU ID card and may need to provide proof of current enrolment with a transcript.
Membership privileges, number of items able to be borrowed, loan length, access to reference services and the internet vary from library to library.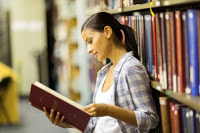 Local libraries you can borrow from
(no joining fees):
Canberra Instititute of Technology
Greater Western Area Health Service
National Council on Intellectual Disability (NCID)
TAFE NSW Riverina Campus
TAFE NSW Western Institute
Wagga Wagga Agricultural Institute
Wodonga Regional Health Service
Larger libraries you can access for free
The library is a member of UNILINC cooperative which allows staff and students to access for free the physical collections of 18 partner institution libraries including:
Australian Catholic University
Southern Cross University
Australian College of Physical Education
Australian College of Applied Psychology
Australian Film and Television School
NSW Police Force
Other University libraries you can access (registration fees may apply)
Under the library's
ULANZ scheme
, students and staff can access the libraries of Australian and New Zealand universities. A registration fee of up to $50 (payable annually) may apply. Registration with ULANZ libraries expires on February 28th each year.
Questions on how it works? Ask a Librarian!