The CSU Faculty and Division Awards are an annual celebration of excellence and outstanding achievements demonstrated by individuals and teams within each management area of the University. Categories include excellence in performance, leadership, teaching and research.
Earlier this month a number of Library staff were recognised for their outstanding achievements and received awards in ceremonies at Wagga and Bathurst campuses.
1. Division of Library Services
Individual Award for Performance Excellence


Debra Peck – Debra was recognised for her contribution to CSU's Excellence in Research for Australia (ERA) 2015 Submission.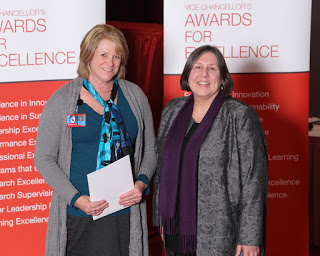 Debra Peck (left) receiving her award from Karen Johnson (right) Executive Director Division of Library Services
Carole Gerts – Carole was recognised for her work as Information Services Team Leader.
Team Award for Performance Excellence
Social Media Team – Sarah Beltrame, Cheryl Boulton, William Coombe, Sarah Curran, Janine Friedrich, Annette Goodwin, Lauren Hookham, Toby Mobbs, Andrew Press, Carrol Rogers and Petrina Smith.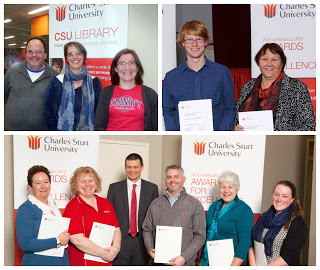 Carole Gerts, Vice-Chancellor Professor Andrew Vann and the Library's Social Media Team
The Social Media Team were recognised for their excellent work managing the Library's channels on; Facebook, Twitter, YouTube and of course, this Blog.


2. Faculty of Education


Individual Award for Teaching Excellence


Carole Gerts – Carole is also an Adjunct Lecturer in the School of Information Studies.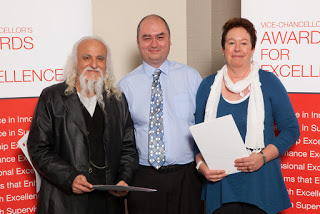 Guiseppe Giovenco (left) and Carole Gerts (right) receiving their awards for Teaching Excellence from Philip Hider (centre) Acting Executive Dean of the Faculty of Education