Summer holidays….the perfect time to catch up on some reading. So what do librarians read when they are on holidays? Do they read at all?
In response to a call out to my librarian colleagues at CSU as to what they will be reading over Christmas, we've compiled a list. See their answers below.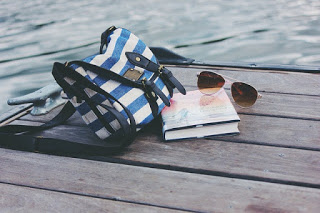 Our pick of books to read over the Christmas/New Year break:
Kylie
Papillon by Henri Charriere – my next book club choice
Go Set a Watchman by Harper Lee – I've been putting this one off, worried it might kill my fond memories of To Kill a Mockingbird
World of Numbers by Adam Spencer, because I get excited about nerdy mathematics!
Jeanette
Island Home, Tim Winton's latest novel; I am a big fan of his work
Carrol
Lauren
Susanna
Obernewtyn Chronicles by Isobelle Carmody. Now that the final book has been released I am planning to re-read the series. It might be ambitious to try to read all seven but I'm hoping to finally get some closure!!!
The Red Queen by Isobelle Carmody
Petrina
Carole
Last Night in Twisted
River by John Irving
Plato at the
Googleplex by Rebecca Newberger Goldstein – waiting for those lazy summer
days where your mind can roam.
Sarah
The Complete Fairy Tales. At the time of publishing in 2008, the compiler believed it to be the most complete and accurate collection of Grimm fairy tales.
White Beech: The Rainforest Years by Germaine Greer. It is profound and empowering – and I've only read the introduction so far!
Sue
My Grandmother Sends Her Regards and Apologises by Fredrik Backman – on loan from Carole on her recommendation
Toby
Annette
Queen of the Flowers: a Phryne Fisher mystery by Kerry Greenwood. I'm slowly working my way through all of the Phryne Fishers, but not reading them in order.
Moon Over Soho (Peter Grant #2) by Ben Aranovitch
Spinning Out by Christine Darcas, a chicklit one for a little non-mystery to read
Carla
Dirty
Old London: The Victorian Fight Against Filth by Lee Jackson
Not Without My Daughter by Betty Mahmoody with William Hoffer
My
Name is Mahtob by Mahtob Mahmoody – this is the sequel to Not Without My Daughter, written by
the daughter, after the events of the first book
Jill
Remembering Babylon by David Malouf, because I have enjoyed his previous writing and I like historical fiction
Blood River : A Journey Through Africa's Broken Heart by journalist Tim Butcher
Claudio
The Heart Goes Last by Margaret Atwood
Seventeen Contradictions and the End of Capitalism by David Harvey
The Unreal and the Real: Selected Stories, Volume One: Where on Earth by Ursula K. Le Guin
Laura
Two Years Eight Months and Twenty-Eight Nights by Salman Rushdie
Chris Hadfield's An Astronaut's Guide to Life on Earth: What Going to Space Taught Me About Ingenuity, Determination, and Being Prepared for Anything. I went and saw his speaking tour and don't want my signed copy to go to waste
Janine