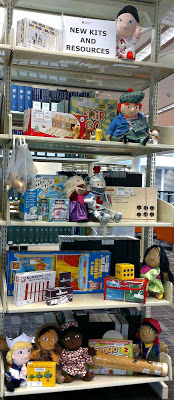 CSU Library has a fantastic range of new kits, puppets, games and puzzles ready for you to borrow!
If you haven't already borrowed from CSU Library's extensive AV collection, then now is a great time to check it out. The AV collection is full of items that can be used for supplementing faculty classroom needs, as a resource for academic research, as teaching tools for students on placement, or just for your own personal enjoyment!
AV collection items have standard loan times, and you can borrow up to 20 items at a time. They can also be sent to DE students, or transferred between campus libraries free of charge. If you are a student going on placement, and would like to take AV items with you to use whilst working or teaching, remember to ask us at the Library loans desk about extended loans for students on placement.