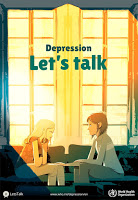 World Health Day, celebrated on April 7th every year, marks the anniversary of the founding of the World Health Organisation (WHO). This day provides us with a unique opportunity to mobilize action around a specific health topic of concern to people all over the world, and the theme of the 2017 World Health Day campaign is Depression: Let's talk. Depression can affect anyone. so this campaign is for everyone, whatever your age, sex, or social status.
If you're one of our inspiring Paramedic, Nursing or Allied Health Students, or just interested in finding out more about World Health Day, Check out the amazing WHO website, and learn more about their goals to build a better, healthier future for people all over the world.
A great place to look for Health study resources are our Library Resource Guides, where you can find many different Libguides on topics as diverse as Psychology, Nursing, Paramedicine and Pharmacy.