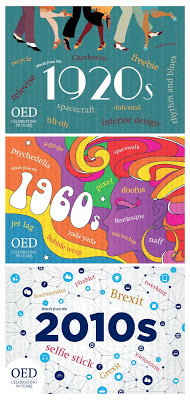 The Oxford English Dictionary (OED) is turning 90 this year, and is celebrating with some fun new services and interesting history lessons! The OED is regarded as the definitive record of the English language, and is a living document that's been growing and changing for 140 years. It records the evolution of our language, and documents the continuing development of our society. Who knew a dictionary could be so exciting!
As well as allowing you to browse this great resource from A to Z, the OED website has some clever activities that you can take part in to help celebrate their big birthday:
– What is your Birthday Word – what word was added to the dictionary the year you were born?
– Hobby Words – Can you identify and record the words, phrases, and expressions particular to your hobby or pastime?
– Resistance is Fertile – discover the language born of the feminist movement.
– How good is your World English – try this quiz to see how many of these regionalisms you can decipher!
CSU Library subscribes to the Oxford English Dictionary, which along with other great reference items can be found on our
Useful links and collections
page. If you have trouble accessing the OED, or have any questions about this resource, please don't hesitate to
contact us
at the Library for help!