Here at the Library, we're all about making sure you have equitable access to information. At the moment, a lot of that access is mediated by publishers and platforms, who charge researchers, authors and universities to publish and access these materials. It winds up being a fairly inequitable way to share scientific knowledge and progress, which is where Open Access (OA) comes in – a global movement to make research available online to anyone, for free, which has been steadily building momentum since 2002. So to celebrate Open Access Week 2019, we're highlighting Open Access resources and concepts to support your study and research.
Making your work Open and FAIR
One handy way to keep Open Access on your mind when working on your research output is to remember the FAIR Principles. Ask yourself if your work is:
Findable
Accessible
Interoperable and
Reusable
FAIR sets the standard for Open Access publications and helps you incoprorate Open objectives into your work. Some other quick tips to help you make your work Open and FAIR include:
Providing your manuscript to CRO, Charles Sturt's research output repository
Creating and linking your ORCiD and CRO profiles
Making sure the publisher assigns your work a DOI
Licensing your work with Creative Commons
Read through our Open Access Publishing Library Resource Guide to find out more about what's involved in publishing Open and FAIR – and find out how the Open Access model can lead to citation advantage!
Equitable resources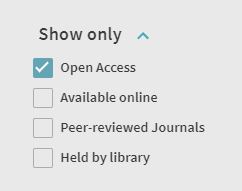 Want to use OA resources for your assignment or course design? Try applying the "Open Access" filter in Primo search. We also have a great roundup of freely available learning and teaching resources in our Open Educational Resources Library Resource Guide.
Found a likely looking OA article, but keep winding up on the journal homepage? Directory of Open Access links don't always lead straight to the article, but never fear! Use the citation information (date, volume, issue, page numbers, etc.) in the Primo record to browse the online archives of the journal in question until you find what you're looking for. As always, contact us if you're stuck or have any OA questions.
For more on Open Access
Check out Plan S, an initiative that aims to make all scientific publications funded by public grants Open Access compliant by 2021. If it's successful, "publicly funded" will equal "publicly accessible."
Watch Paywall: The business of scholarship to learn more about the academic publishing industry and the impetus behind the push for Open Access.
If you're an author or researcher, have a read of this open letter over at the Scholarly Kitchen about why you should care about Open Access