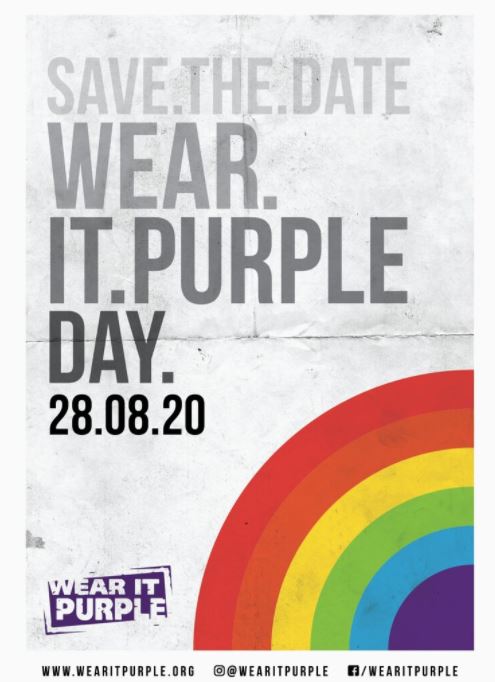 Friday is Wear it Purple day, a day designed to foster supportive, safe, empowering and inclusive environments for rainbow young people! Wear it Purple day is an important time for us all to show young people in our local communities, and across the globe, that there is hope, there are people who support and accept them, and they should be proud of who they are. The key principles of Wear it Purple day include:
Advocating for and empowering Rainbow young people
Celebrating and promoting the value of diversity and inclusion in all community settings
Raising awareness about sexuality, sex and gender identity and challenge harmful social cultures
Championing Rainbow role-models to help young people establish the confidence to be who they are.
The Charles Sturt University Library would like to celebrate Wear it Purple day by sharing with you some of our online resources that celebrate Rainbow youth, and can help us all learn how to make a difference:
Rainbow Family Collections: Selecting and Using Children's Books with Lesbian, Gay, Bisexual, Transgender, and Queer Content – A highly praised resource on this important topic – this book examines and suggests picture books and chapter books presenting LGBTQ content to children under the age of 12.
Growing up Queer in Australia – In this eBook, Benjamin Law assembles voices from across the spectrum of LGBTIQA+ identity. Spanning diverse places, eras, ethnicities and experiences, these are the stories of growing up queer in Australia.
I am the Queen – This eVideo celebrates Chicago's Puerto Rican Transgender community, and follows three young Transgender women as they prepare for the Vida/Sida Cacica Pageant in Chicago
Safe Spaces : Making Schools and Communities Welcoming to LGBT Youth – This eBook offers a comprehensive view of the complex lives of LGBT youth of all ages, from kindergarten through college.
Journal of LGBT Youth – This eJournal presents scholarly articles, practitioner-based essays, policy analyses and revealing narratives from young people. It is committed to advancing knowledge about, and support of, LGBT youth.
It's Elementary – this eVideo, and it's re-examining It's still Elementary, talk about Gay issues in primary and secondary school settings. They are a great case study of how documentary film making coupled with a robust grassroots campaign, can literally change the world.
So why not join in on Wear it Purple day this year, and be part of a movement that has the potential to save thousands of lives? If you would like to learn more about what other resources the Library has on this topic, or have any trouble accessing these resources, please contact us at the Library for help.