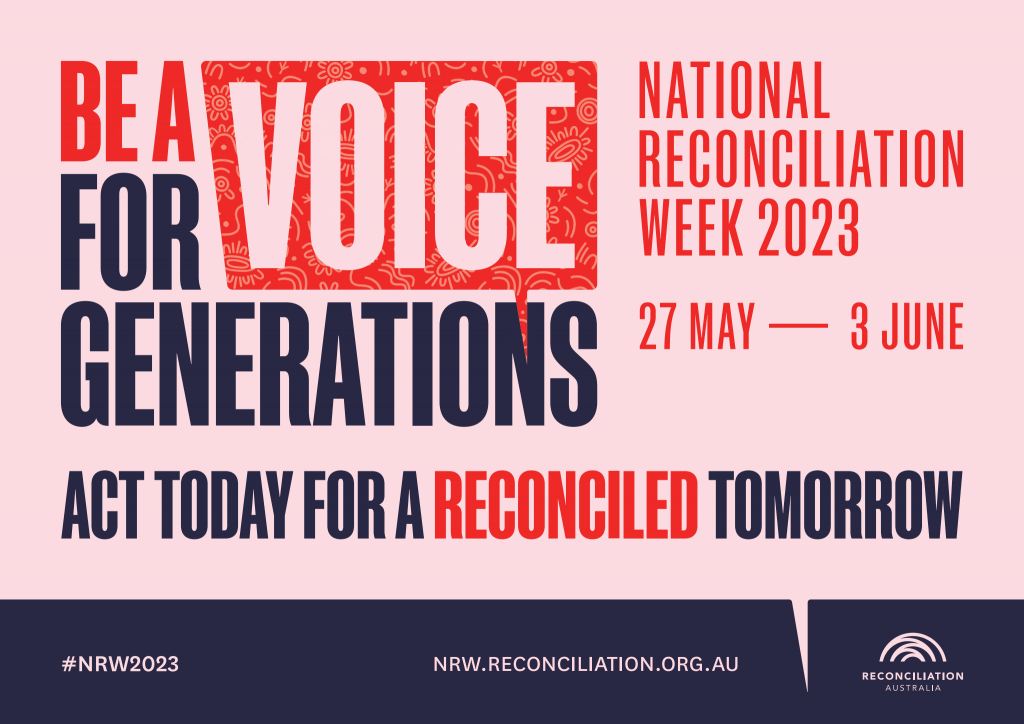 National Reconciliation Week (NRW) is a time for all Australians to learn about our shared histories, cultures, and achievements, and to explore how we can contribute to achieving reconciliation in Australia.
This year's theme – Be a Voice for Generations – encourages all Australians to be a voice for reconciliation in tangible ways in our everyday lives; to use our power, words and actions to create a better, more just Australia for everyone.
At Charles Sturt University Library, we have been exploring different ways to promote cultural safety within our spaces and our collection. An important step is taking a culturally-informed approach to the way our collection is managed, described and accessed – especially with material that belongs to or references First Nations peoples, cultures, heritage and perspectives.
If you've used the Library online recently, you may have noticed the Cultural Warning and option to report Culturally Sensitive Content in Primo Search. So what does this mean?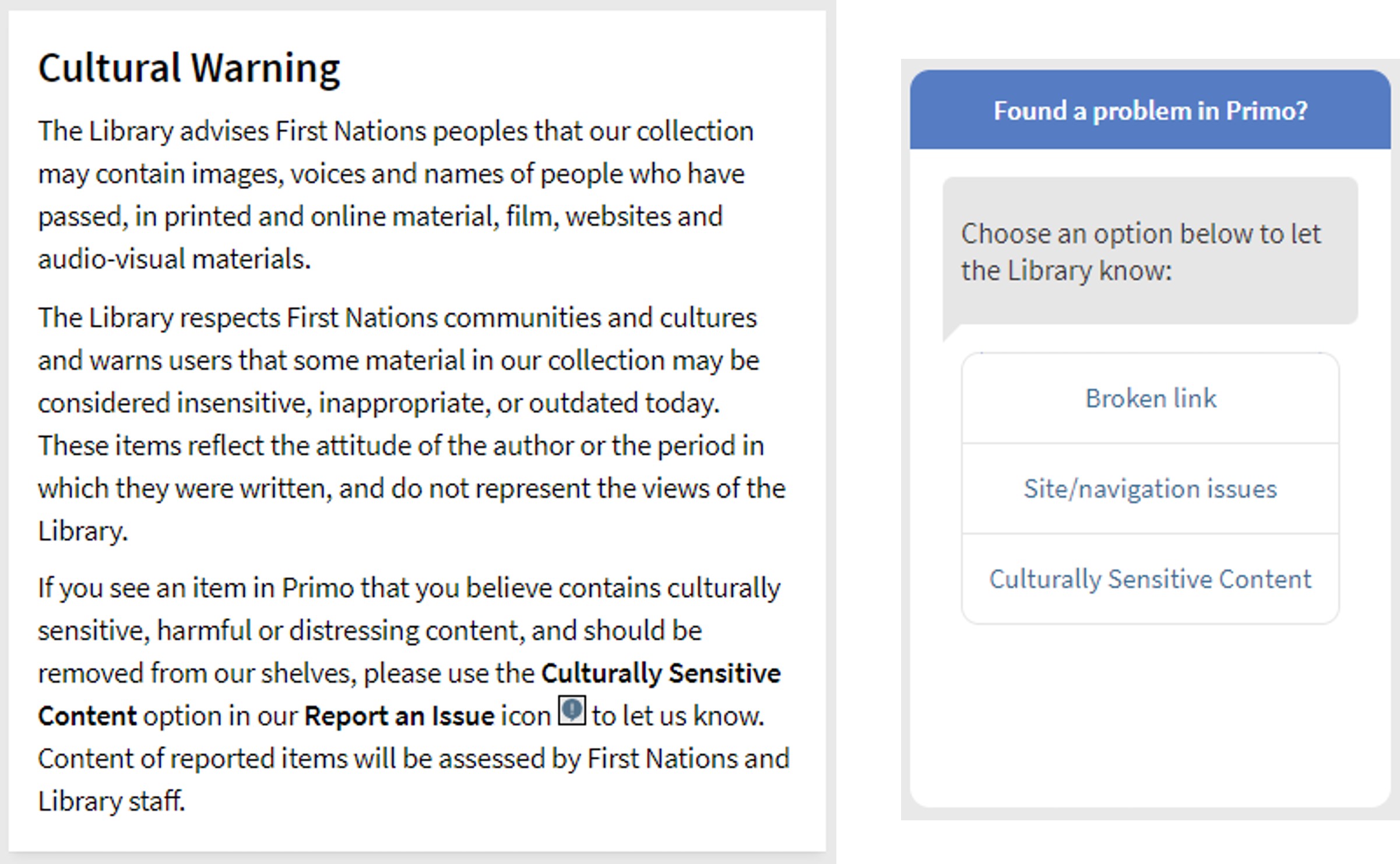 This enables you to report a collection item containing culturally secret or sensitive material, which should have restricted access; or a harmful catalogue description, which can be amended. You can let us know if there's an item containing cultural knowledge that could be moved to a different campus to better align with the First Nations communities it represents; or collection data that should be edited to properly acknowledge Indigenous Cultural and Intellectual Property rights.
When you let us know that a Library item (or subject heading, or catalogue description) contains culturally sensitive content, it alerts us to this item. First Nations and Library staff can then assess the item and consult with First Nations groups about the most appropriate way to approach the situation. It is not about censorship, but communication, sovereignty and respect. This is one small way the Library is being a voice for reconciliation.
"I urge all Australians to join me in participating in activities this National Reconciliation Week and to raise our voices for the future."

Karen Mundine, Reconciliation Australia CEO
National Reconciliation Week events for staff and students will held at all Charles Sturt campuses – find out what's happening on your campus and register today!
Further reading
Carroll, S., Garba, I., Figueroa-Rodríguez, O., Holbrook, J., Lovett, R., Materechera, S., Parsons, M., Raseroka, K., Rodriguez-Lonebear, D., Rowe, R., Sara, R., Walker, J.D., Anderson, J. & Hudson, M. (2020). The CARE principles for Indigenous data governance. Data Science Journal, 19(1), 43. https://doi.org/10.5334/dsj-2020-043
Charles Sturt University. (2022). Reconciliation Action Plan
Masterson, M. (2020). Finding the space between: Leading for cultural safety in Australian public libraries. Journal of the Australian Library & Information Association, 69(3), 316-329. https://doi.org/10.1080/24750158.2020.1777695
McKemmish, S., Bone, J., Evans, J., Golding, F., Lewis, A., Rolan, G., Thorpe, K., & Wilson, J. (2020). Decolonizing recordkeeping and archival praxis in childhood out-of-home care and Indigenous archival collections. Archival Science, 20(1), 21-49. https://doi.org/https://doi.org/10.1007/s10502-019-09321-z
National and State Libraries Australasia. (2023). Culturally Safe Libraries. https://www.nsla.org.au/our-work/culturally-safe-libraries/
Thorpe, K. (2021). The dangers of libraries and archives for Indigenous Australian workers: Investigating the question of Indigenous cultural safety. IFLA Journal, 47(3), 341-350. https://doi.org/10.1177/0340035220987574