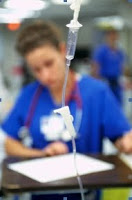 CINAHL Plus with Full Text is the world's most comprehensive nursing & allied health research database, and it just got better. Due to the popularity of this database, the Library has increased its licence so that the number of users who can access it simultaneously has risen from 12 users to unlimited users. This means that if you've been having problems trying to access CINAHL, your problems are over!
Not familiar with CINAHL yet?
CINAHL Plus with Full Text provides the full-text of more than 560 journals, as well as citations and links to the full text of many more journals in our other database collections – just look for the 'Find Full Text' icon or SFX link. Resources include material going back to 1937, such as: legal cases, drug records, clinical trials, professional publications, health care books, nursing dissertations, selected conference proceedings, and Evidence-Based Care Sheets.
You can access CINAHL Plus with Full Text on the Library's journal database pages.