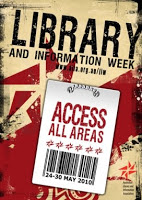 This week (24-30 May) is Library and Information Week 2010, and in celebration of this year's theme – Access All Areas – we're going to spend the week sharing all the ways you can access the goodies libraries have to offer you.
During Library and Information Week we'll be looking at different types of libraries, and uncovering a range of amazing resources available to you, many you may not even be aware of.
Here's what the Australian Library and Information Association (ALIA) has to say about this important week:
"In May every year, libraries and information services throughout Australia celebrate Library and Information Week and highlight the vital role and value of libraries.

"This year's theme – Access All Areas – celebrates libraries as the place to access, communicate, connect, educate, entertain and inform.

"Libraries connect people to ideas. It's a vital part of our commitment to promoting the free flow of information and facilitating all Australians' access to recorded knowledge, information, and creative works."
We look forward to sharing with you this week! Stay tuned tomorrow to find out all about the National Library of Australia and State Libraries.