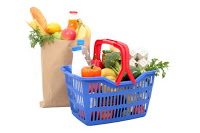 Many Baltimore residents live in a food desert, these are areas across the city's poorest neighborhoods where fresh fruits and vegetables are scarce because there are no grocery stores. This is adding to a compounding health problem for Baltimore as one in three residents are now obese.
Most people in these food deserts don't own a car, and the local corner stores are expensive and don't offer a great range of fresh produce. Additionally takeaway food places are plentiful. This leaves residents without much of a choice for healthy food.
To address the shortage of supermarkets, the city created a program that allows low-income residents to order groceries online at selected library branches and have them delivered there with no delivery charge. The groceries can be picked up the very next day from the library. Libraries are a lifeline for Baltimore residents.
According to Laura Fox from Baltimore City Health Department "Studies have shown that if you increase the access to food, especially foods like fruits and vegetables, you'll lower the risk of diabetes, heart disease and stroke, and all these other obesity related co-morbidities."
Read more about this program here