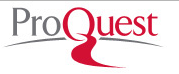 CSU Library subscribes to a number of databases provided on the ProQuest platform. These have always included the databases ANZ Newsstand, Dissertations and Theses Full Text, ProQuest Religion, ProQuest Natural Science Collection, and ProQuest Science Journals.
Recently, CSU Library has subscribed to ProQuest Central, which includes a number of extra databases, including the well-known business database ABI/Inform, and numerous other databases covering a range of subjects. Most of the ProQuest databases can be accessed via the P-Databases webpage.
ProQuest has advised that, on Sunday 1 July, 2012, over a period of 12 hours from 12 noon (AEST), these databases might be unavailable while infrastructure management is carried out and enhancements installed.
CSU Library apologises for any inconvenience.