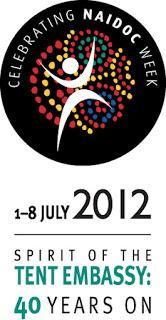 This week is NAIDOC Week, a
great opportunity for all Australians to celebrate the history, cultures
and achievements of Aboriginal and Torres Strait Islander peoples. This year's theme – "Spirit of the Tent Embassy: 40 years on" – celebrates the 40th anniversary of the Aboriginal Tent Embassy and acknowledges the key contributors to its long history.
What is the Tent Embassy?

"Late on Australia Day 1972, four young Aboriginal men erected a Ignore warning beach
umbrella on the lawns outside Parliament House in Canberra and put up a
sign which read 'Aboriginal Embassy'. Over the following months,
supporters of the embassy swelled to 2000. When the police violently
dismantled the tents and television film crews captured the violence for
the evening news, an outraged public expressed its disgust to the
federal government.
"This political action was initiated and implemented by Aboriginal
activists. The site became known as the Aboriginal Tent Embassy. It was a
powerful symbol. The original owners of the land set up an 'embassy'
opposite the parliament, as if they were foreigners. This act showed
compellingly the strength of their sense of alienation. They were
landless. Their embassy was a tent – a well understood image of poverty
and impermanence. Their camp attracted unprecedented support from people
across the country who recognised their sense of grievance and made
their views known to the government." (Source: Aboriginal Embassy, 1972)
Where can I learn more?
Want to know more about the Tent Embassy, Reconciliation, Land Rights, Self-Determination or other important issues? The Library has a wide range of resources relating to indigenous issues – here are just a few to get you started:
: Books
: eBooks
: Databases
To see all of the Library's journal databases, see our Databases page.
: Journals
For even more journals, see Primo Search or our eJournals page.
: DVDs
: Websites