Currently there is a problem with SFX links to ProQuest articles from
PRIMO Search. ProQuest Support are aware of the problem and their
developers are looking into it. There is no estimated time for when
they expect to have the problem resolved.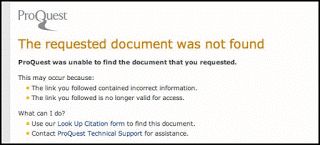 When you click on an SFX
link the following message appears:

If
you remove volume, date and page numbers from the SFX menu it will take
you to journal level, and you can drill down through the year, volume and
issue to the specific article.