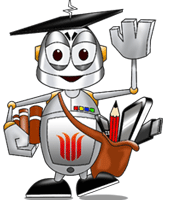 Wondering what I'm all about?
Keep reading here and you'll find out –
It's true, I'm something of a stunt:
A mascot for our Scavenger Hunt.
On our website look for me –
I'll take you all around the Library.
Just follow me around the pages –
An online tour that goes in stages.
A Scavenger Hunt to make you wise,
And you might even win a prize!
A game for those of any age –
To start, go to the Library home page.
The Library's online Scavenger Hunt commences today – Friday 15 February. It will run before, during, and after, O Week 2013.
The start is at the Library homepage, and the end is at … well, you will have to find out.
Look for the Gadgetman icon on various webpages, and follow the clues – all the clues are in verse -to take a tour of the Library website. It's a fun way to learn about Library resources.
The Scavenger Hunt runs until Sunday 17 March. If you submit your entry as instructed in the final clue, you will go in the draw to win one of several AU$20 iTunes vouchers.