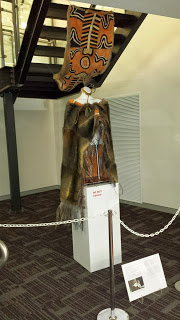 Wagga CSU Library has been lucky enough to have the Treahna Hamm's Possum Skin cloak on display.
Dr Treahna Hamm began the creation of possum skin cloak making in the late 1990's. While living in Moama and working at the Yorta Yorta Nations Aboriginal Corporation adjacent to the Barmah Forest, little did she know the importance of her work and its future impact for the rejuvenation and revitalisation of this traditional practice to Aboriginal people of the south-east of Australia.
The photograph below surfaced while Treahna was researching a PhD in Philosophy (Education) in 2004. At the time she was attempting to piece together the history and stories of this traditional practice. The photograph, taken at a women's camp at Maloga, depicted Hamm's great great great Aunty – Sarah Walker.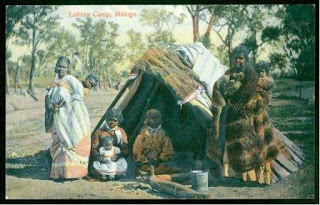 The beautiful and multi-layer possum skin cloaks created by Treahna Hamm have been acquired by major galleries and museums including the National Gallery of Australia (Cultural Warriors exhibition), National Museum of Australia, Australian National Maritime Museum, Museum of World Culture, Frankfurt, Germany and the Albury Regional Gallery and also by private collectors in Australia and overseas.
Treahna is a former student of CSU, she graduated with a Masters of Visual Arts in 2000. She wore one of her possum skin cloaks in the Opening Ceremony of the Commonwealth Games, Melbourne in 2006. Another was worn by Aunty Matilda House-Williams, a Ngambri Elder during the 'welcome to country' ceremony at both the 42nd and 44th Opening of Parliaments of Prime Ministers Kevin Rudd (2008) and Tony Abbott (2013).
There is an interesting article that is worth reading by Helen Gibbins titled Possum Skins Cloaks: tradition continuity and change.
If you are on the Wagga Campus why not pop in an check out the display.
You will find it in the library foyer opposite the loans desk.