CSU Library has been participating in CSU's Future Moves program.

Read about how one of our Wagga Wagga Campus Librarians, Sarah, approached planning and programming for school children in a University Library with the help of colleagues.
Catering to kids in an Academic Library
It is not often that Academic Librarians get to plan and present children's programs. I was approached by another section of the University to run sessions for school aged children participating in CSU's Future Moves program at the Wagga Wagga Campus. This was an excellent opportunity to promote the Library as a friendly and helpful place while providing a session that would scaffold information literacy and complement the children's current study. With generous assistance and advice from my inter-campus colleagues I presented two unique and useful sessions to Year 9 and Year 11 students. The spirit of collegial collaboration with my colleagues contributed to the success of these sessions.
The CSU Future Moves program encourages school aged children to 'have a greater awareness of the opportunities that arise from pursuing University study and an understanding of how University might be a part of their future' (www.csu.edu.au/future-moves). A Future Moves staff member approached me about running library sessions at the Wagga Wagga Campus. I had recently enrolled in a CSU School of Information Studies subject, Library Services for Children and Youth, so the timing was fortuitous.
I work with many creative and experienced Librarians who were willing to share their expertise and lesson plans. Carole, from the Bathurst Campus, shared her lesson plan for Year 11 students called 'Effective Internet Research Skills'. The session presents students with a University assignment that requires them to search the internet for sources. They were taught how to evaluate websites and then applied their knowledge to some websites. Focusing the session on online resources helps children develop digital information literacy and empowers them to feel confident in their ability to choose reliable online sources. Feedback about this program was positive, with students (and even a teacher) saying they learned a lot from the session that could be applied to their current study.
Carrol, also from Bathurst, shared 'Digital Citizenship', a session for Year 9 students where they identify and discuss the meaning of digital citizenship before completing case studies.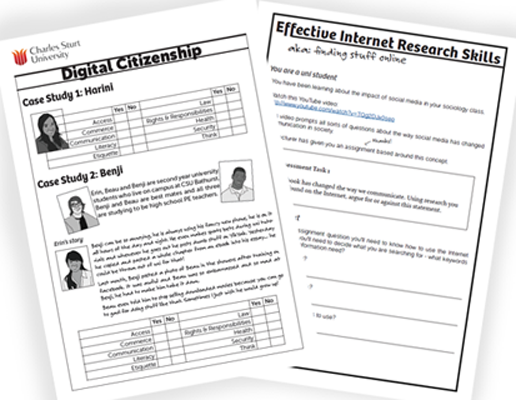 The aim of this session is to encourage children to recognise they are a part of the digital world, rather than the centre of it. It was designed to be thought-provoking and help them develop 'digital life skills' by exploring what it means to be digitally literate using terms and examples they can relate to. Students engaged in conversation and carefully considered their own behaviour as digital citizens. The students continued to discuss the topic throughout the afternoon.
What lessons have I learnt about catering to kids in an Academic Library? Firstly, connect with your colleagues – Librarians are renowned for their collaborative spirit and your colleagues might have some great advice (or even a lesson plan) to share. Secondly, think about the information literacy needs of the group – the children are effectively receiving a 'bonus' library session so make it worth their while. Research the stages of childhood development, the
school curriculum
and relevant information literacy standards. Finally, thank your colleagues profusely and have fun – it's not every day there are kids in an Academic Library!
Thanks to our guest blogger Sarah, Librarian, CSU Library, Wagga Wagga.