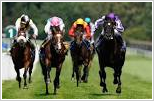 Did you know that a Public Holiday has been proclaimed for the afternoon of the Albury Gold Cup on
Friday 27 March
?

The biggest race day for Albury brings all the colour and excitement of an icon event. But it's more than the horse racing – its high fashion, food and fun.
The Library may be closed, but you can still access the 24 hour zone of the Learning Commons and you can contact Library staff on 1800 808 369 or through Live Chat.
For more information, visit the Library Website and opening hours.