'We all Stand
on Sacred Ground: Learn, Respect and Celebrate'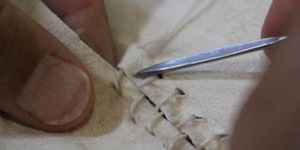 CSU is welcoming NAIDOC Week with
Marra Marra Badhang
, an exhibition of Wiradjuri Possum Skin Cloaks, Aboriginal art from the CSU collections and astronomy activities linked to the
Sky Stories Project
.
The
exhibition
opens Monday 22nd June at the Grange, CSU Bathurst.
This is an opportunity to appreciate the artistry and traditional craft of the
Possum Skin Cloak
. Cloaks offered warmth, artistic expression and cultural connection to Aboriginal people throughout south-eastern and western Australia. Very few traditional 19th century cloaks remain, in galleries and museums, but new cloaks can now be seen in the community.
For NAIDOC Week 2014, the Blue Mountains Katoomba Cultural Centre hosted Gundungurra Mens Cloaks created by the Young Fathers Project. In December 2013,
CSU Library Wagga Wagga
exhibited one of Dr Treahna Hamm's cloaks, "
Emu Cummeragunja Woka
". Dr Hamm is a CSU graduate and accomplished artist.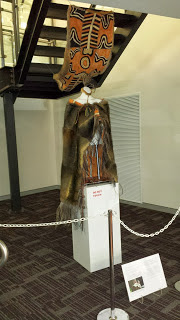 "The cloak highlights the evolution of the artist's practice and technique using ochre as well as other traditional methods of painting derived from the landscape of Dhungala – the Murray River. The emu feathers which adorn the cloak have strong family links and are symbolic of the stories to one of Dr Hamm's family clans the Wollithica of the Yorta Yorta Nation."
In 2011, the Griffith Regional Art Gallery exhibited Wiradjuri cloaks made by local TAFE students from the Marrambul Yugahna project, along with Carolyn White. The
ABC reported on the process
of creating the cloaks and burning the designs.
Michelle Evans, discussing the 2015 Bathurst 'Renewal Exhibition' described the community importance of possum skin cloaks:
"They require hunting of many possums, skinning, treating of the skins, sewing of the skins together into the shape and size of the cloak, design etched into the cloak. The process of creating a single cloak takes many people and much time, providing time and space for sharing, community building and reflection. Many participated in the process of making the possum skin cloaks, from Elders to children, Aboriginal community members and friends."
An opportunity to celebrate community, arts and sky stories at CSU!