Did you notice some changes to Primo Search after semester break?
Over session break we updated Primo Search to include some new features, but don't panic! Most of the changes are behind the scenes and you won't notice changes to how you search for items.
New Features in Primo Search
Availability & Request options
We have changed the layout of the Availability & Request box listed below each physical item result.
With multiple holdings/copies of the an item over several campuses you will see all holdings automatically in the Availability & Request box (no more clicking on plus signs!).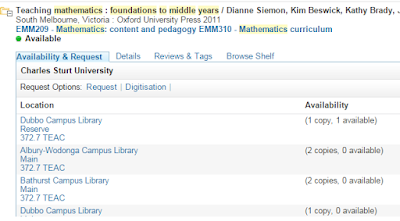 Clicking on the campus name will show what copies are available and under what conditions,

for example this Dubbo item is only available for a 2 hour loan as it is a Reserve item.
For these two Bathurst library items, one is in transit between campuses, and the other copy is on loan till 30/7/2015.
The process for placing requests has also changed

You are now prompted to sign-in for "more options" in the top right of the Availability & Request box before you can see the different request options; request and digitisation.
Digitisation is what we now call photocopy requests. The request options remain the same as before. If you don't know the page numbers you can include the chapter heading.
Request options are the same as before. Don't forget to select your pick-up location from the drop down list.
Checking the progress of your request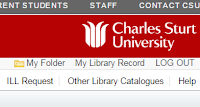 Once you have placed a request or a digitisation request you can track the progress through My Library Record. Click "My Library Record" in top right corner of the Primo Search results screen and select 'Requests' from the left hand menu.
Due date slips and item due reminders are now emailed
You'll no longer get printed date due slips with your loans, these are emailed using the email address you have given student administration.
The day before an item is due back we will send to you a email reminding you that your item is almost due back.
Changes to renewal amounts
You are no longer restricted to a set number of renewals, but to a maximum loan length. Renew as many times as you like within the maximum renewal period as long as no one else requests your book!