Hello from me – Adele Miles – at the
Port Macquarie campus
, where I've been providing library services to staff and students for the past few months.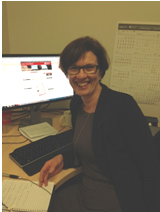 I'm employed here for 2½ days, Mondays, Tuesdays and Friday mornings. I also work as the Library Manager of Port Macquarie Base Hospital, so have some great variety in my working life. While at CSU I work with both the students and the academic staff – sometimes here at this screen, sometimes troubleshooting in Student Central or presenting to class groups, and sometimes working with staff and researchers and their special information requirements.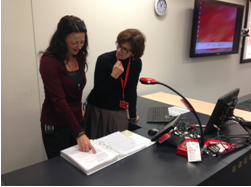 Adele working with Paramedics
lecturer Tania Johnston
At the moment we don't have a physical library at the Port Macquarie campus – although the local public library across the road does a wonderful job of looking after a core collection of books for us. Luckily for me, and all our staff and students, CSU Library has an excellent online presence with electronic books, journals, databases and training options galore! I must give a big thank you here to all the wonderful library staff in the other campuses who have made me so welcome and made this great job so much easier.
2016 will bring big changes. Port Macquarie's brand new campus will be completed, including a fabulous library with actual books you can touch and hold. Here's a fairly recent picture of our newest library – hmm, a little way to go I think…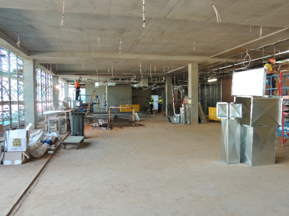 Staff and internal and distance students can reach me at amiles@csu.edu.au or on 6582 9380 or 0417 931 642. I'm more than happy to arrange an appointment for one-on-one assistance with journal databases, resource-finding, EndNote, or any particular library-ish issues you might be having.