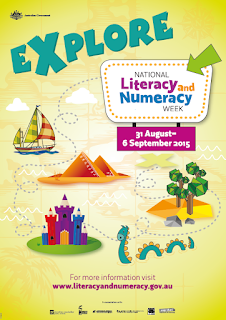 National Literacy and Numeracy Week 31 August – 6 September is all about celebrating the importance of literacy and numeracy, the foundations of learning across Australia
Did you know that positive parental engagement and involvement promotes improved literacy and numeracy learning and student outcomes? Parental involvement in reading aloud to children, and doing simple maths (remember ""One, Two, Buckle My Shoe"?) can really help children start reading and understand maths more easily at school.
NLNW is all about giving parents and teachers extra resources to encourage children's literacy and numeracy with some fun activities for parents, teachers and children to do together. You might like to try out some of the resources on the NLNW webpage , such as making kites, play shops, and board games or writing a story book. The trihexaflexagon activity is one guaranteed to get you thinking about different shapes .
The library has an extensive collection of literacy and numeracy resources for teachers. try doing a books, journals, DVDs & more search for "literacy" or "numeracy" to see just a few of them.
We also have many kits available for students to borrow and use as teaching resources.
Check out some of these library resources:
Plus many more!
Oh, and you might be interested in our library resource guides for: